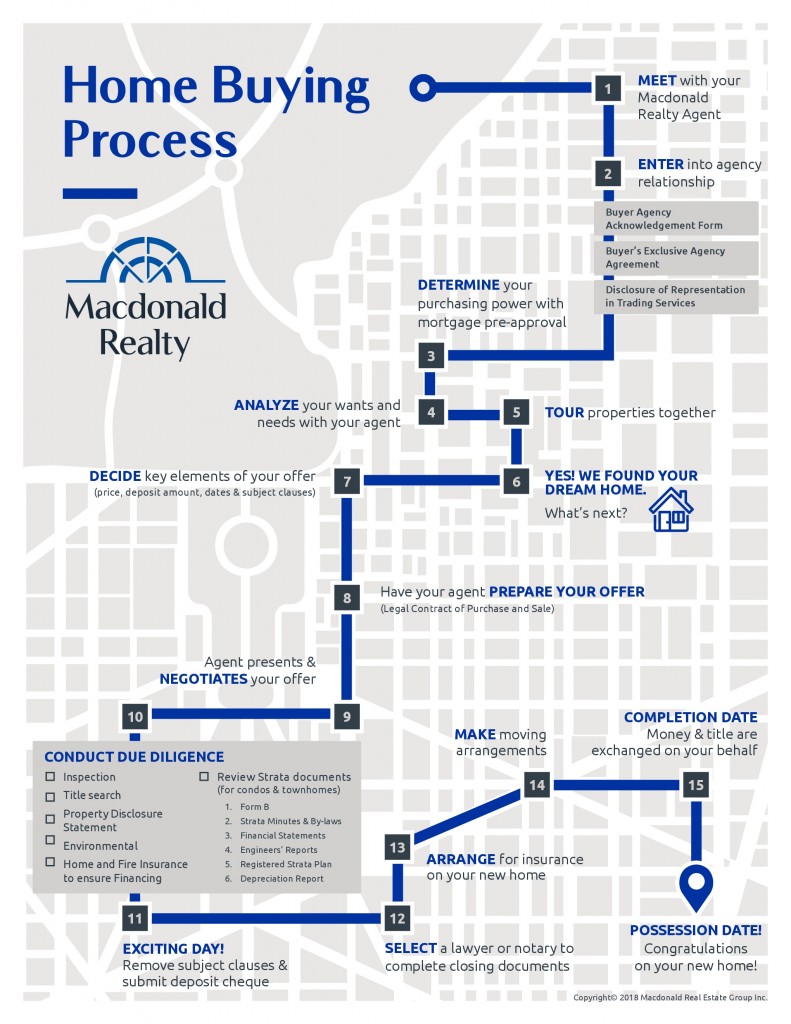 Backed by an impressive portfolio of innovative programs and tools, professional support, and the combined resources, services and knowledge of over 20 offices, I'm ready to put my extensive expertise to work for you.
No matter where you're starting out on your real estate journey – whether you're looking to buy your very first home, looking to buy an investment property, or dreaming of moving away, I'm equipped with the latest information and strategies to help you with the purchase of your new home.
Here's how the process works:
Let's meet up

to determine your real estate goals. From there, if you're happy to move forward, you'll enter into an agency relationship

Once you've determined your purchasing power with mortgage pre-approval, we'll analyze your wants and needs and start touring properties together

Yes! We've found your dream home. From here, I'll prepare your offer, present it & begin negotiating

The big step! Next, we'll conduct due diligence. This includes the inspection, title search, property disclosure statement, environmental, home and fire insurance and reviewing the strata documents (for condos & townhomes)

You'll remove subject clauses and submit the deposit cheque

Next, you'll need to select a lawyer or notary to complete the closing documents, arrange insurance on your new home and make moving arrangements

Completion date! The money & title are exchanged on your behalf

Possession date! Congratulations on your new home
Real estate, like life, never stands still. Momentum is critical, as is acting when the time is right, and recognizing opportunities. I'm here to help you see the potential and make it happen.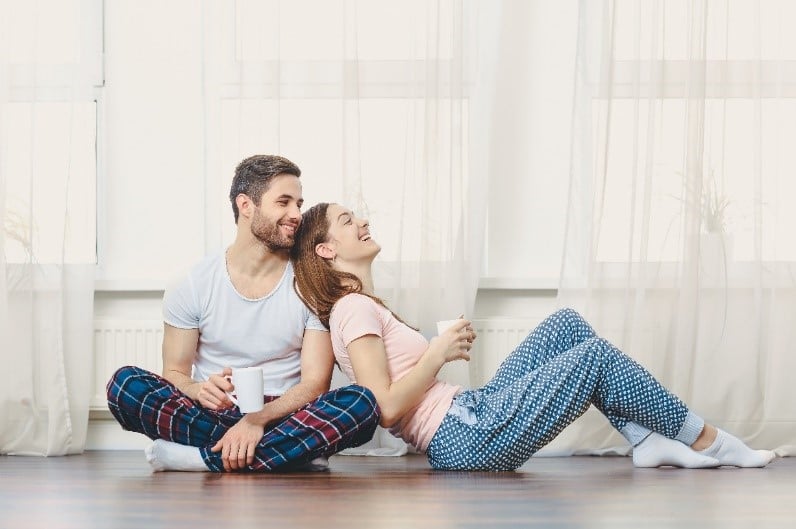 Testimonials
" "Barry is a very professional and knowledgeable agent who did a great job selling our home. He is well informed about the market, reliable, a great negotiator and trustworthy. What I liked most about working with Barry was how he was very responsive to my queries and constantly kept in contact with us to update us on the progress being made to sell the home." "
- James Lafferty, Madrona Fine Homes
" "I worked with Barry twice this year, first to sell my house and later to purchase a new one. He's a great collaborator so it was both fun and educational to talk through strategies and explore options to arrive at my desired outcomes. Throughout, I greatly appreciated Barry's attentive customer service, follow through and excellent communication skills. With Barry I had a partner who was enthusiastic, creative and caring so the process of preparing my house to sell and making it available for viewing was seamless and efficient. When it came time to purchase a new property, Barry was both attentive to my list of wishes and intuitive about what would work for me. My house hunting experience was like working with a friend who has your best interests in mind and shares your enthusiasm for the search. After exploring many intriguing options, we found my perfect house-match and the celebration belonged to both of us." "
- Betty Morton
" "Barry brought class, knowledge, and experience to the process of selling our home. The level of marketing exceeded our expectations. As a Realtor he brought an excellent work ethic, confidence and most importantly strategy. Our home sold right within the CMA range he proposed and within the timeframe we were hoping for." "
- Penny Naldrett & James Tuer
" "Long before we met Barry Thomas, we noticed in our mailbox his elegant postcards advertising other homes on Bowen Island. These led us to the high-quality videos his team produces to promote properties. When it came time to sell our own home, we decided to interview three or more realtors, with Barry at the top of the list. But after one meeting, we immediately decided that he was our best choice. This was our first home and our first home sale. Barry appreciated the home but convinced us that some repainting and garden work, minor repairs, and new flooring would enhance the sale price. Barry provided tradespeople contacts who undertook all the work promptly and affordably. The sale process was short and sweet with our home selling on the third day, extremely close to the asking price Barry had advised. Throughout, Barry's answers to our questions left us confident. If you're considering buying or selling a home, contact Barry – at least for an interview. We're sure you'll end up choosing him as your Realtor." "
- Ken and Ann Beatty
" "I would recommend working with Barry Thomas in a heart beat. He's knowledgeable, kind and honest. Any questions we would have for him, he would reply quickly, with patience and he always had good advice. He guided us through the process of selling our home and kept us informed of any new developments every step of the way. Not only is he good at his job, but he's a lovely person. He has a great sense of humor and he's warm and disarming, which makes working with him a pleasure. When it came time to negotiate, he was respectful and honorable, but skilled and confident. During a time that can be as stressful as selling one's house, having someone like Barry in your corner, makes it much more enjoyable and calm. I'd recommend, and have recommended, Barry to anyone on Bowen thinking of selling their home." "
- Carly Bentall
" "Working with Barry Thomas was easily the most professional and thorough experience I have had with a Realtor in the Lower Mainland. Barry is highly knowledgeable, affable, and displays a competency that makes you feel confident in your decisions during a time most families would find very stressful. Whether it was calling the municipality to get clear answers about a property or suggesting vendors to prepare our home for sale, you could trust that Barry had what was best for your family in mind and was striving to provide the most rewarding experience possible. He comes highly recommended for a reason. Thank you, Barry, for your stellar service and finding my family exactly what we needed." "
- Bobbi Parker
" "Barry oversaw every detail throughout the process and represented our interests with integrity and confidence. He is a real estate marketing powerhouse who is attentive, gracious and fun. He epitomizes competence. A rare find." "
- Shawna Goodrich & Vikk Dua
" " Barry did an amazing job selling my home in a slow market. It sold within a week of going onto the market! I highly recommend his friendly professional service." "
- Sandy Arthur
" "Barry was the ideal Realtor for our needs. From his initial interview with us, the market assessment, sales materials and video, to the showings and dealings with the final buyer, he attentively represented our interests with professionalism, warmth, candour, integrity and good humour. It was a pleasure to work with Barry! We strongly recommend him whenever we have the opportunity." "
- Jacqueline Massey & Alan Whitehead
" "I really enjoyed working with Barry on the recent purchase of my first apartment. He walked me through the process step by step and covered all my bases on a short timeline. I was really impressed by his professionalism, response time and attention to detail. I have been, and will continue to recommend him to my family, friends and network." "
- Danielle Allan
" "Barry provided the most professional, supportive service I have ever had from a Realtor. I was a solo person involved in all the stressors of buying and selling a home alone and he provided such a supportive presence. Barry always had time for me - even when I knew he had other matters he was attending to. On the selling side he included a professionally produced video in my listing which really highlighted the home's assets. He coached me on decluttering a bit mostly with his "Is it photo ready?" line and a walk through confirming I was on the right track. He did his research and suggested I list higher than I had planned but in a way that encouraged great interest. I am sure this resulted in all the offers over asking price that I received. On the buying side he sent me listings totally suited to my intended purchase area and was very patient as I viewed homes. He ensured I understood a few changes in the housing market that had occurred since my last purchase - he is well informed. It was a great experience working with Barry Thomas. I highly recommend!" "
- Barbara
" "Barry, Thank you for all the time and effort you put into helping us find our wonderful new home. Your knowledge of the local market was invaluable. Thank you for your sensitivity to our needs, and giving us the time and options. From the beginning you made us feel comfortable and answered all our questions. Without your diligence we may have not closed on schedule, but you made it happend. Thank you for arranging the inspections and giving us all your local contacts. Your professionalism showed through, right from the beginning." "
- Fehmina Lalani & Arif Datoo
Previous
Next